Manufacturer L. D. Clarke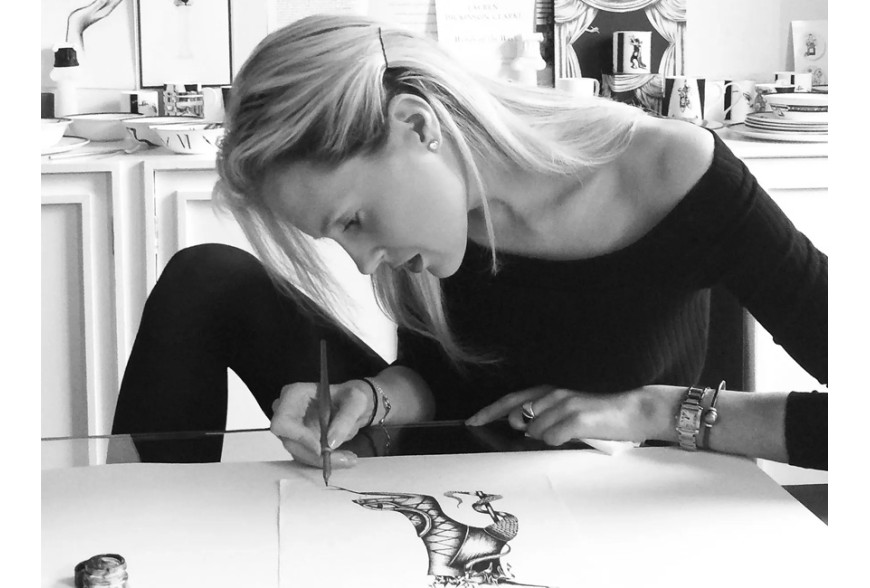 Born in Great Britain, Lauren Dickinson Clarke has been searching for herself in creativity since she was a child. Not surprisingly, she ended up studying fashion design. Lauren worked in the studios of various fashion houses: Mary Katrantzou, Hussein Chalayan, and Alexander McQueen. It was in the latter that she gained a lot of practice telling engaging stories about various objects and clothes. Thus, little by little, the idea was born to create unique pieces for the home that would tell unique stories of their own age and ours.
"Before creating porcelain, I spent countless hours in my studio in Notting Hill sketching and searching for perfection.
Each piece begins its journey as a beautifully drawn ink illustration. Such drawings are a true labor of love, as each one is drawn and redrawn many times before it is finished.
When I paint, I often think about the spirit of the piece and how I want the client to feel when lighting a candle or sipping tea. Life is too short to just "make products". What's actually much more fun is turning everyday interactions into whimsical and artistic experiences.
After all, our home can be much more than just a home, it can be a gallery of your wishes and dreams." - Lauren Dickinson Clarke.
Lauren Dickinson Clarke has never compromised on quality. High-quality porcelain is used for all manufactured products. Be it a unique candle holder or your coffee mug. Each piece is finished with 22-karat gold trim, which gives the pieces a delicate framing and luxury. The crockery is designed and manufactured by the best British craftsmen who have maintained a long-standing tradition for many decades. The production of the product involves a lot of handwork, as every corner of the items is finished with care and love.
Each candle design is inspired by the legendary 20th century. women who changed the world with their ideas and lives. These muses made the earth spin faster. All drawings are prepared, drawn and improved by the author herself, using only ink. The candle caps, which complete the work and reflect the life of each muse, also require extreme precision. The scented candle is filled with the maximum amount of scented oils, so you will feel the sensuous aroma settling in every corner, even in large spaces.
Candles are the pride of Lauren Dickinson Clarke. Made from 100% natural soy wax. They are FREE of parabens, phthalates, formaldehydes, artificial dyes and other harmful substances. The wick is made of silk, cotton and brass.